ISO CERTIFICATIONS :


Scope Description: Supplier Service of Heavy equipment, Drilling Rigs and Spare parts. Supply Serving the Drilling Fluids technology and automated lubrication needs. Providing the best solutions with the Support of the most modern well equipped Hydraulic workshop Casing Supply, Oil and Gas Trading



We provide the best service to our customers with the latest trucks fleet and the highest standards of quality and safety.
Our goal is customer satisfaction and timeliness is our standard
ISO 9001 : 2015 :
Quality Management System
Certificate No: Q-02327
https://tciglobe.com/data/
Scope Description: Supplier Service of Heavy equipment, Drilling Rigs and Spare parts. Supply Serving the Drilling Fluids technology and automated lubrication needs. Providing the best solutions with the Support of the most modern well equipped Hydraulic workshop Casing Supply, Oil and Gas Trading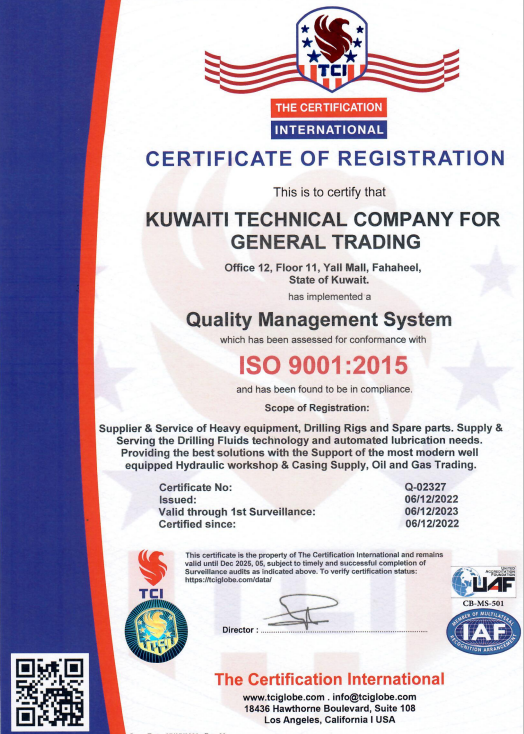 ISO 14001 : 2015 :
Environmental Management System
Certificate No: E-02328
https://tciglobe.com/data/
Scope Description: Supplier Service of Heavy equipment, Drilling Rigs and Spare parts. Supply Serving the Drilling Fluids technology and automated lubrication needs. Providing the best solutions with the Support of the most modern well equipped Hydraulic workshop Casing Supply, Oil and Gas Trading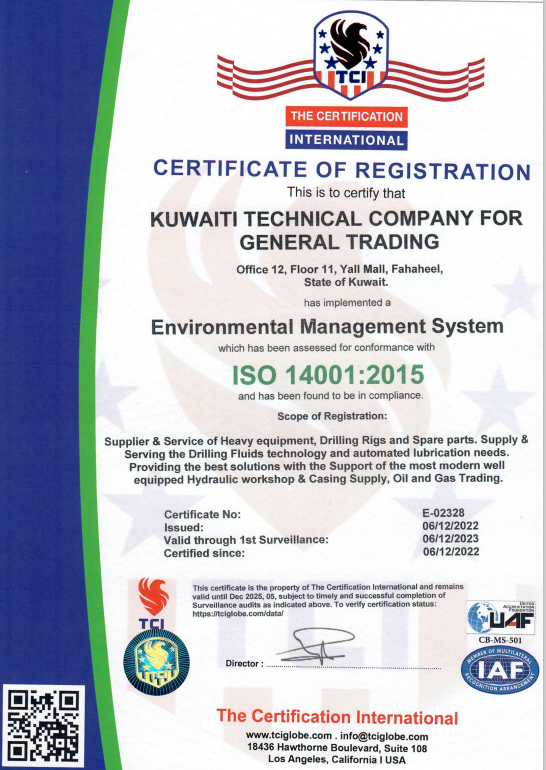 ISO 45001 : 2018 :
Occuptional Health & Safety Management System
Certificate No: O-02329
https://tciglobe.com/data/
Scope Description: Supplier Service of Heavy equipment, Drilling Rigs and Spare parts. Supply Serving the Drilling Fluids technology and automated lubrication needs. Providing the best solutions with the Support of the most modern well equipped Hydraulic workshop Casing Supply, Oil and Gas Trading